50th Anniversary Celebration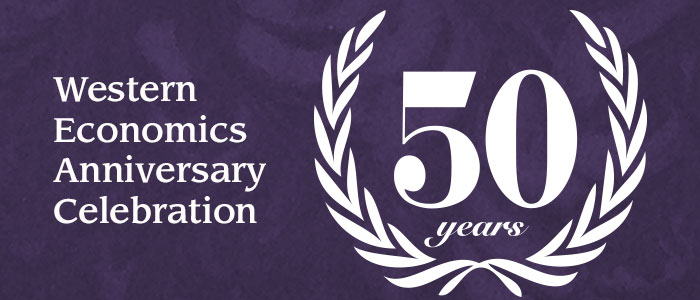 During the 2016-17 academic year, Western Economics is celebrating its 50th Anniversary. To recognize this important milestone, we will be holding a number of events throughout the year.

We are kicking off the celebration with a number of events on Friday, October 28, 2016 and Saturday, October 29, 2016.

The Anniversary Conference will be held on Friday, October 28th with reception and dinner to follow at the Department's favourite watering hole, The Grad Club. Our presenters will be alumni from the '80s, '90s, '00s, and '10s.

Also on Friday, October 28th, David Laidler and Michael Parkin will receive Honorary Degrees from Western in recognition of their many contributions to Western, the economics profession and Canadian economic policy.

The Celebration Events continue on Saturday, October 29th with Invited Speakers and Panel Discussion. We will have individual presentations by high-profile former faculty and follow with a panel of distinguished alumni who will discuss, "Lessons Learned from the 2008 Financial Crisis." Again, we hope you will join us in this daylong event and see many familiar faces.

Finally, as a conclusion to this weekend of events, we will celebrate in style at the 50th Anniversary Gala Dinner in the Great Hall. Grant Reuber and Clark Leith will entertain us with stories from the past, and Jim MacGee will interview Douglas Porter, Chief Economist at BMO, and David Andolfatto, Vice-President of the Federal Reserve Bank of St. Louise, on current events affecting the economy and today's businesses.

Be sure to check back here for more events as the year goes on. We would love to see you back on campus. In addition, check out our 50th Anniversary Project as a way to help support our mission and another 50 years of Western Economics.
Western Economics gratefully acknowledges funds in support of these events from the Faculty of Social Science and the Centre for Human Capital and Productivity.